John Debney - Luck (Soundtrack from the Apple Original Film) (2022)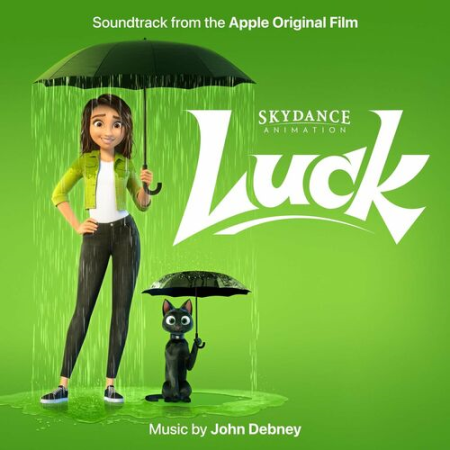 FLAC (tracks), Lossless / Mp3 320 kbps | 1:07:18 | 155 / 298 MbSoundtracks, Pop
Luck is an upcoming computer-animated fantasy comedy film directed by Peggy Holmes and written by Kiel Murray. Produced by Skydance Animation and Skydance Animation Madrid.
Luck is scheduled to be released in the United States on August 5, 2022, by Apple TV+.
Academy award nominated John Debney is considered one of the most prolific and successful composers in Hollywood. His unique ability to create memorable work across a variety of genres, as well as his reputation for being remarkably collaborative, have made him the first choice of top level producers and directors. Debney combines his classical training and a strong knowledge of contemporary sounds to easily adapt to any assignment.
Tracklist
1.01 - John Debney - Samantha's Theme (2:09)
1.02 - John Debney - Sam and Hazel (0:52)
1.03 - John Debney - Good Luck All Day Long (3:23)
1.04 - John Debney - Unlucky Day (2:14)
1.05 - John Debney - Bob the Cat (1:44)
1.06 - John Debney - A Great Job (0:27)
1.07 - John Debney - A Penny Lost (1:13)
1.08 - John Debney - Chasing a Cat (2:51)
1.09 - John Debney - Sam Meets Bob (1:54)
1.10 - John Debney - Land of Luck (2:48)
1.11 - John Debney - Hazmat Bunnies (2:16)
1.12 - John Debney - Making Good Luck (2:06)
1.13 - John Debney - Good Morning (1:56)
1.14 - John Debney - Randomizer (2:24)
1.15 - John Debney - I Got This (0:48)
1.16 - John Debney - Bunny Drone Activation (1:18)
1.17 - Eva Noblezada - Lucky Star (1:16)
1.18 - John Debney - A Lift in Between (4:36)
1.19 - John Debney - Anything is Possible (2:19)
1.20 - John Debney - Bad Luck in Between (2:21)
1.21 - John Debney - Bad Luck, Bad Cat (2:45)
1.22 - John Debney - She Has You (2:48)
1.23 - John Debney - Meet Rootie (2:04)
1.24 - John Debney - With These Two Stones (2:52)
1.25 - John Debney - Bad Luck is Good / Fixing the Randomizer (5:05)
1.26 - John Debney - A Forever Family (3:29)
1.27 - John Debney - One Year Later (2:44)
1.28 - John Debney - Luck Theme (1:55)
1.29 - John Debney - Luck Teaser (1:16)
1.30 - John Debney - The Penny Depot (1:43)
DOWNLOAD1dl.netuploadgig.comrapidgator.net
---