Dominic Lewis - Bullet Train (Original Motion Picture Score) (2022)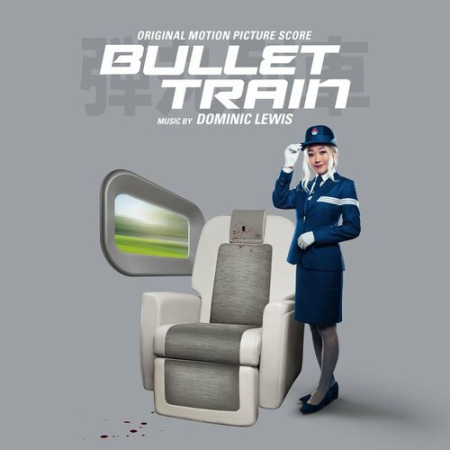 FLAC (tracks), Lossless / Mp3 320 kbps | 56:05 | 286 / 128 MbSoundtracks, Pop
Bullet Train is a 2022 American action comedy film starring Brad Pitt and based on the Japanese novel Maria Beetle (published in English as Bullet Train) by Kotaro Isaka. The film is directed by David Leitch based on a screenplay by Zak Olkewicz.
Bullet Train prred in the United States at the Grauman's Chinese Theatre on August 1, 2022, and is scheduled to be released in the United States on August 5, 2022 by Sony Pictures Releasing.
Dominic Alexander Charles Lewis (born January 29, 1985) is an English film and television composer known for his work for Peter Rabbit, Goosebumps: Haunted Halloween, The Man in the High Castle, DuckTales, Money Monster, Rough Night, Fist Fight among other studio films and network television shows.
Tracklist
1.01 - Dominic Lewis - The White Death (2:27)
1.02 - Dominic Lewis - All Aboard (2:21)
1.03 - Dominic Lewis - Prince (1:07)
1.04 - Dominic Lewis - A Modern Plague (1:55)
1.05 - Dominic Lewis - Royally f#*ked (1:35)
1.06 - Dominic Lewis - MacGyver (1:26)
1.07 - Dominic Lewis - Yuichi (1:46)
1.08 - Dominic Lewis - Toilet Talk (3:30)
1.09 - Dominic Lewis - Tang Fight (1:57)
1.10 - Dominic Lewis - Daddy Issues (0:46)
1.11 - Dominic Lewis - Fructose Overdose (1:13)
1.12 - Dominic Lewis - The Hornet Stings (2:16)
1.13 - Dominic Lewis - Bubbles (2:08)
1.14 - Dominic Lewis - You're the Diesel (2:34)
1.15 - Dominic Lewis - Backpack (0:51)
1.16 - Dominic Lewis - Polythene Pam (2:06)
1.17 - Dominic Lewis - Tentomushi (4:15)
1.18 - Dominic Lewis - Kyoto Eki (1:39)
1.19 - Dominic Lewis - Dochka (2:56)
1.20 - Dominic Lewis - Mr. Death (5:20)
1.21 - Dominic Lewis - Anuvva Bruvva (1:57)
1.22 - Dominic Lewis - Make or Brake (3:21)
1.23 - Dominic Lewis - Not Carver (1:12)
1.24 - Dominic Lewis - Fate (5:38)
DOWNLOAD1dl.netuploadgig.comrapidgator.net
---