John Williams, Yo-Yo Ma, New York Philharmonic - A Gathering of Friends (2022) Hi-Res/FLAC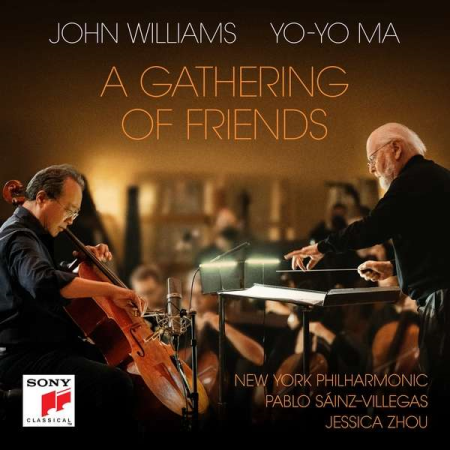 FLAC (tracks), Lossless[24bit-96kHz] / FLAC (tracks), Lossless | 68:28 | 309 Mb / 1,3 GbClassical, Instrumental
"Famed film composer" John Williams and star cellist Yo-Yo Ma are featured on this unique album, an expression of their decades-long collaboration and friendship.
"A Gathering of Friends" includes two concertos written by John Williams for Yo-Yo Ma, as well as excerpts from his film scores for "Schindler's List," "Lincoln" and "Munich." John Williams himself conducts the New York Philharmonic
John Williams and Yo-Yo Ma met about four decades ago, when the Oscar-winning composer became conductor of the Boston Pops Orchestra and Ma was just bning his solo career. Their collaboration has spanned from joint concerts and film score collaborations to the 2008 inauguration of President Barack Obama, and has been marked by an enduring mutual appreciation. From their first meetings, each recognized in the other the understanding that, as Williams simply puts it, "music is our oxygen."
"A Gathering of Friends" centers on the prre recording of John Williams' newly revised version of his Cello Concerto, which he composed for Ma in 1994 and which both recorded for Sony Classical back in 2001. During performances of the four-movement concerto over the past three decades, Williams was already making significant changes to the score. Ma noted that the new version even includes "major changes, structural changes," with a final movement that "is one glorious song."
Also featured on "A Gathering of Friends" are new arrangements John Williams created for Yo-Yo Ma of three pieces from his Academy Award-winning score for "Schindler's List," as well as a new arrangement for cello and strings of "With Malice Toward None" from the 2012 film score for "Lincoln."
The album closes with a duo arrangement for Ma and guitarist Pablo Sainz-Villegas of "Prayer for Peace" from the film "Munch"
Tracklist
01. John Williams - Cello Concerto (2021 Revision): I. Theme & Cadenza
02. John Williams - Cello Concerto (2021 Revision): II. Blues
03. John Williams - Cello Concerto (2021 Revision): III. Scherzo
04. John Williams - Cello Concerto (2021 Revision): IV. Song
05. John Williams - Three Pieces from Schindler's List: I. Theme
06. John Williams - Three Pieces from Schindler's List: II. Krakow Ghetto - Winter '41
07. John Williams - Three Pieces from Schindler's List: III. Remembrances
08. John Williams - Highwood's Ghost
09. John Williams - With Malice Toward None from Lincoln
10. John Williams - A Prayer for Peace from Munich
DOWNLOADuploadgig.comrapidgator.netnitro.download
---