Roxette - Joyride (30th Anniversary Edition) (2021) FLAC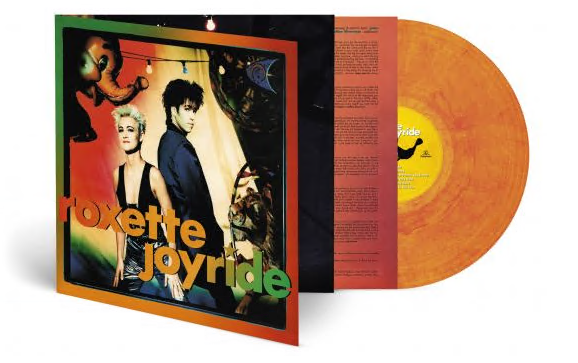 FLAC, Lossless | Pop Rock | 1,47 Gb
Limited three CD set containing original album plus bonus non-album tracks, demos, and more. This year marks 30 years since Roxette released her third album Joyride, which followed up the band's record global breakthrough with the album Look Sharp! In 1989. Roxette had in record turned into a global hit phenomenon thanks to the three US hits The Look, Listen To Your Heart, It Must Have Been Love and other big hits such as Dressed For Success and Dangerous. Joyride was the album that was supposed to cement the unlikely successes of Marie Fredriksson and Per Gessle. Which indeed it did. The album not only became Roxette's bestseller, the title track zoomed all the way up to the top of the US charts on 1st May 1991 - giving Roxette their fourth US No.1. Thus, the group set a record that no Scandinavian group or artist has managed to surpass.
01. Roxette - Joyride
02. Roxette - Hotblooded
03. Roxette - Fading Like A Flower (Every You Leave)
04. Roxette - Knockin' On Every Door
05. Roxette - Spending My
06. Roxette - I Remember You
07. Roxette - Watercolours In The Rain
08. Roxette - The Big L.
09. Roxette - Soul Deep (Joyride Version)
10. Roxette - (Do You Get) Excited
11. Roxette - Church Of Your Heart
12. Roxette - Small Talk
13. Roxette - Physical Fascination
14. Roxette - Things Will Never Be The Same
15. Roxette - Perfect Day
16. Roxette - The Sweet Hello, The Sad Goodbye
17. Roxette - Joyride (Brian Malouf US Single Mix)
18. Roxette - Fading Like a Flower (Every You Leave) (Humberto Gatica Remix)
19. Roxette - Soul Deep (Tom Lord-Alge Mix)
20. Roxette - Spending My (US Adult Contemporary Mix)
21. Roxette - Physical Fascination (Guitar Solo Version)
22. Roxette - Church Of Your Heart (US Adult Contemporary Mix)
23. Roxette - Joyride (T&A Demo May 23, 1990)
24. Roxette - Hotblooded (T&A Demo #2)
25. Roxette - Fading Like A Flower (T&A Demo Aug 31, 1990)
26. Roxette - Knockin' On Every Door (T&A Demo Aug 15, 1989)
27. Roxette - Spending My (T&A Demo May 24, 1990)
28. Roxette - I Remember You (T&A Demo April 1, 1990)
29. Roxette - Watercolours In The Rain (T&A Demo January 24, 1990)
30. Roxette - The Big L (T&A Demo April 1, 1990)
31. Roxette - (Do You Get) Excited (T&A Demo Aug 19, 1989)
32. Roxette - Small Talk (T&A Demo)
33. Roxette - Church Of Your Heart (T&A Demo Jan 8, 1990)
34. Roxette - Physical Fascination (T&A Demo Jan 3, 1990)
35. Roxette - Things Will Never Be The Same (T&A Demo Jun 17, 1989)
36. Roxette - Perfect Day (T&A Demo August 23, 1990)
37. Roxette - Sweet Thing (T&A Demo Oct 28, 1990)
38. Roxette - Seduce Me (T&A Demo Aug 22, 1990)
39. Roxette - Run Run Run (T&A Demo Jan 10, 1990)
40. Roxette - Things Will Never Be The Same (T&A Demo Sep 17, 1990)
41. Roxette - Love Spins (T&A demo 3 Jan, 1990)
42. Roxette - Come Back (Before You Leave) (T&A Demo Apr 8, 1990)
43. Roxette - The Sweet Hello, The Sad Goodbye (T&A Demo Mar 16, 1990)
44. Roxette - Hotblooded (T&A Demo December 13, 1990)
45. Roxette - Things Will Never Be The Same (T&A Demo December 13, 1990)
46. Roxette - Another Place, Another (T&A Demo Jan 11, 1990)
47. Roxette - I Remember You (T&A Demo Mar 15, 1990)
48. Roxette - Queen Of Rain (T&A Demo Jan 2, 1990)
49. Roxette - The Big L (T&A Demo Mar 29, 1990)
50. Roxette - Joyrider (T&A Demo May 22, 1990)
51. Roxette - Hotblooded (Live in Sydney)
52. Roxette - Fading Like a Flower (Every You Leave) (Live in Sydney)
DOWNLOADuploadgig.comrapidgator.netnitro.download
---