VA - NOW Live Forever: The Anthems (2021)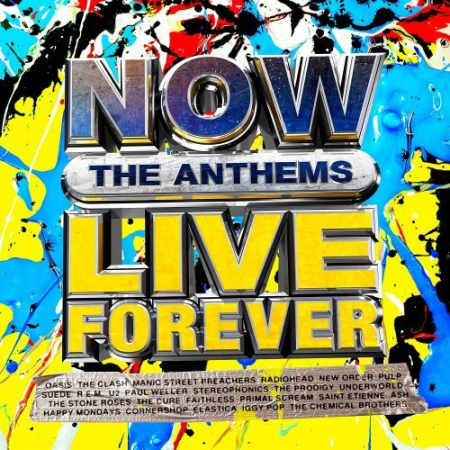 mp3 320 kbps / FLAC (tracks) | Pop, Rock, Indie, Alternative, R&B | 5h 48 min | 805 MB / 2.3 GB
Featuring Giants From The Era When Indie Pop, Indie Dance And The Newly Christened Britpop Became Massive Including Oasis, Manic Street Preachers, Pulp, Radiohead And Suede, NOW Live Forever: The Anthems Is Packed With 82 Universally Loved Tracks Ready For You To Re-Live! Perfect For Father's Day Or To Treat Yourself To, This Anth 4CD Compilation Also Includes Huge Hits From Across The Pond Such As, R.E.M. 'What's The Frequency, Kenneth' And Iggy Pop 'Lust For Life'.
less Classics From Legendary Artists Including The Clash, U2, The Cure, New Order And Paul Weller Sit Alongside Club Inspired And Early Electronic Dance Hits From The Prodigy, Underworld, Saint Etienne, The Chal Brothers, Faithless And Everything But The Girl. Now Live Forever: The Anthems Is An Amazing Collection From The Where Music And Culture Collided, Enjoy Sig Along To Every Word.
Disc: 1
01. Oasis - Live Forever
02. The Clash - Should I Stay or Should I Go
03. Pulp - Disco 2000
04. Suede - Trash
05. Iggy Pop - Lust For Life
06. New Order - Regret
07. The Cure - Friday I'm in Love
08. The La's - There She Goes
09. Happy Mondays - Step On
10. Saint Etienne - He's on the Phone
11. Everything but the Girl - Missing (Todd Terry Club Mix)
12. Chumbawamba - Tubthumping
13. The Boo Radleys - Wake up Boo!
14. Supergrass - Alright
15. James - Sit Down
16. Ash - Girl From Mars
17. Kula Shaker - Hey Dude
18. Ocean Colour Scene - The Day We Caught The Train
19. The Bluetones - Slight Return
20. Babybird - You're Gorgeous
21. The Farm - All Together Now
Disc: 2
01. Manic Street Preachers - A Design for Life
02. R.E.M. - What's The Frequency, Kenneth
03. Stereophonics - The Bartender And The Thief
04. U2 - Hold Me, Thrill Me, Kiss Me, Kill Me (From 'Batman Forever')
05. The Stone Roses - Fools Gold
06. Primal Scream - Loaded
07. Embrace - All You Good Good People
08. Shed Seven - Going For Gold
09. The Charlatans - Forever
10. McAlmont & Butler - Yes
11. They Might Be Giants - Birdhouse in Your Soul
12. Elastica - Connection
13. Sleeper - Inbetweener
14. Placebo - Nancy Boy
15. Hole - Celebrity Skin
16. Weezer - Buddy Holly
17. The Wannadies - You & Me Song
18. The Wonder Stuff - The Size Of A Cow
19. Reef - Place Your Hands
20. Soundgarden - Black Hole Sun
21. Jeff Buckley - Hallelujah
Disc: 3
01. The Prodigy - Firestarter
02. Underworld - Born Slippy (Nuxx)
03. The Chal Brothers - Hey Boy Hey Girl
04. Faithless - Insomnia
05. The Beloved - The Sun Rising
06. Groove Armada - At the River
07. Saint Etienne - Only Love Can Break Your Heart
08. Leftfield - Release the Pressure
09. Cornershop - Brimful Of Asha (Norman Cook Remix)
10. Stereo MC's - Connected
11. The Soup Dragons - I'm Free
12. Happy Mondays - Kinky Afro
13. The Farm - Groovy Train
14. The House of Love - Shine On
15. The Mock Turtles - Can You Dig It
16. Cast - Flying
17. Inspiral Carpets - This Is How It Feels
18. Longpigs - She Said
19. Mansun - Wide Open Space
20. The Dandy Warhols - Bohemian Like You
Disc: 4
01. Radiohead - Creep
02. Oasis - Don't Look Back In Anger
03. Manic Street Preachers - If You Tolerate This Your Children Will Be Next
04. Passengers, Luciano Pavarotti - Miss Sarajevo
05. Paul Weller - The Chagman
06. Ocean Colour Scene - The Riverboat Song
07. Kula Shaker - Hush
08. Primal Scream - Movin' On Up
09. The Stone Roses - One Love
10. Teenage Fanclub - Ain't That Enough
11. Space - Female of the Species
12. Babylon Zoo - Spaceman
13. Catatonia - Mulder and Scully
14. The Cardigans - Lovefool
15. The Beautiful South - Rotterdam (Or Anywhere)
16. Dodgy - Good Enough
17. New Radicals - You Get What You Give
18. Republica - Ready to Go
19. The Lightning Seeds - Change
20. Travis - Why Does It Always Rain On Me
DOWNLOADuploadgigrapidgatornitroflare
---