VA - The Best of Soundtrack - Retro (1998-2000) MP3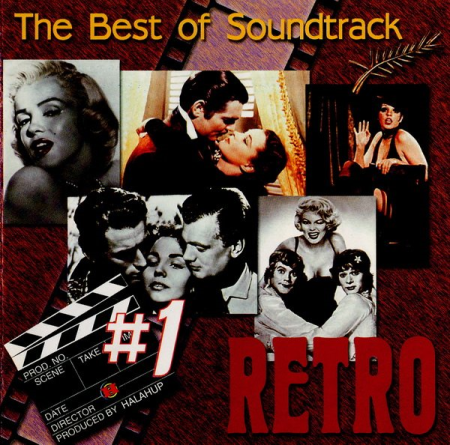 MP3 CBR 320 kbps | Pop, Soundtrack | 07:46:37 | 1.13 GB
HALAHUP is a prolific pirate company standing behind Invisible Halahup label.
On related releases please use Invisible Halahup as a label (as on logo) and Halahup as a company (see Halahup company name variations below)
On some releases company's name was printed as Holahup, Hulahup, Halahup Studio, Halahup Records, Halahup Records, Inc., Halahup Records Ltd. or as ООО "Халахуп" (means 'Halahup Ltd.' in Russian). In the wholesale catalogue they also used HULA-HUP alias.
Releases also often mention various fake companies, such as "Halahup Music Media", "Halahup Music Entertainment (Germany) GmbH", "Halahup Music".
Invisible Halahup is one of the best known pirate labels from the ex-USSR. Halahup gained big popularity because it was one of the first pirate labels that started making releases with nicely designed booklets, printed on high quality paper, often multi-page, containing artists biographies and rare photos. Another factor was that Halahup released music of all possible styles - Pop, Rock, Electronic, Club dance, Hip-hop, Alternative and so on.
Some releases contain really unique track selections taken from quality sources. At the same some other releases may contain poor quality recordings mastered from MP3 files or taken from "jumping" original CDs.
CD 1:
01. Sailor - Girls, Girls, Girls
02. Los Lobos - I Wanna Be Like You
03. The Platters - Sixteen Tons
04. Henry Manchini - The Pink Panter Theme
05. Chuck Berry - Jack Rabbit Slims Twist Contest (You Never Can Tell)
06. Paul Anka - You Are My Destiny
07. Liza Minelli - Money, Money
08. Salvatore Adamo - Tombe la N
09. Stray Cats - Stray Cat Strut
10. Oscar Benton - Bensonhurst Blues
11. Gene Pitney - Something's Gotten Hold Of My Heart
12. Joseph Julian Gonzales - Cumbia de Surf
13. The Platters - Only You
14. Joe Cocker - You Can Leave Your Hat On
15. The Charlie Byrdquintet - Besame Mucho
16. Stray Cats - Rock This Town
17. Steve Harley & Cockney Rebel - Mr. Soft
18. The Ventures - Ginchy
19. Matia Bazar - Vacanze Romane
20. Paul Anka - Crazy Love
21. Los Lobos - Someday
22. Jango - Minor Swing
23. Rosana - El Talisman
24. Roy Orbison - Oh Pretty Woman
25. Johnny Logan - How Can (Bonus Track)
26. Unknown Artist - Capelli Biondi (Bonus Track)
CD 2:
01. Paul Anka - Adam and Eve
02. Oscar Benton - I Feel So Good
03. The Shadows - Man Of Mystery
04. The Andrews Sisters - Tico Tico
05. Sashball - The Way
06. Salvatore Adamo - J'aime
07. Hot Butter - Popcorn
08. Matia Bazar - Tu Semplicita
09. Tom Jones - Delilah
10. Dalida - Bambino
11. Righteous Brother - Unchained Melody
12. Elvis Presley - Surrender
13. Tulio Zuloaga - Te Llevare
14. The Ventures - Rap City
15. Merilyn Monroe - I Wanna Be Loved By You
16. Louis Armstrong - Go Down Moses
17. Francisco Garcia - Besame Mucho
18. The Platters - My Prayer
19. Ambrossy - Too Many Tears
20. Sparks - Never Turn You Back On Mother Earth
21. Sam The Sham And The Pharaoes - Wooly Booly
22. The Andrews Sisters - Bei Mir Bist Du Schon
23. Paul Anka - Diana
24. The Everly Brothers - Dream
CD 3:
01. Joe Dassin - Taka Takata
02. Del Shanon - Run a Way
03. Pat Boone - Speedy Gonzales
04. Sesaria Evora - Besame Mucho
05. Taco - Puttin On The Ritz
06. Teach In - I'm Alone
07. Sohnny Cymbal - Mr. Bassman
08. Diana Russel - Paradise
09. Charles Aznavour - Les Deux Guitares
10. Andy Williams - Love Story
11. The Manhatten Transfer - Java Jive
12. Salvatore Adamo - La Nuit
13. The Andrews Sisters - Fierry Boat Serenade
14. Joe Dollan - Lady In Blue
15. Ray Charles - Hit The Road Jack
16. The Ventures - Hernando's Hideaway
17. Mary Hopkin - Those Were The Days
18. Tom Jones - Love Me Tonight
19. Louis Armstrong - Kiss Of Fire
20. Roy Orbison - Only The lonely
21. Liza Minelli - Mein Herr
22. The Platters - For The First s
23. Millie Small - My Boy Lollipop
24. Jack Hilton Orchestra - St. Louis Blues
CD 4:
01. Joe Dollan - Midnight Lover
02. Frederic Francois - Fanny Fanny
03. Marie Laforet - Ivan, Boris & Moi
04. Euro Boys - Hava Naglilah
05. Jonny Logan - I Want to Go to Brazil
06. Nino Ferrer - Mirza
07. Cesaria Evora - Petit Pays (Nando da Cruz)
08. Little Tony - Prega Prega
09. Hugo Strasser - Letkiss (Letka-Enka)
10. Alan Price - Poor People (Original Soundtrack from 'O Lucky Man!')
11. Pupo - Celato Al Cioccolato
12. Dalida - Tico Tico
13. Tom Jones - Yesterday
14. The Champs - Tequila
15. Henri Salvador - Petit Fleur
16. Lian Ross - Say, You'll Never
17. Gianni Morandi - Go-Kart Twist
18. The Doors - People Are Strange
19. Giorgio Moroder - Love Theme from 'Flash Dance'
20. Big Bad Voodoo Daddy - Mr. Pinstripe Luit
21. Jonny Logan - No I Don't Want to Fall in Love
22. The Andrew Sisters - Rum and Coca-Cola
23. Raffaella Carra - A Far L'amore
24. Marek Weber Orchestra - Rio-Rita
25. Joe Dassin - Siffler Sur La Colline
26. Robertino Loreti - Jamaica
27. Los Lobos - La Bamba
28. Offspring - Who Knows
CD 5:
01. Sonny & Cher - Little Man
02. Santabarbara - Charly
03. The Atomic Fireballs - Man With The Hex
04. Marie Laforet - Mon Amour Mon Ami
05. Hugo Srasser und Sein Tanzorchester - Popocatepetl-Twist
06. Teach In - Ding-A-Dong
07. Brian Setzer - Caravan
08. Conway Twitty - C'est Si Bon
09. Big Bad Voodoo Daddy - I Wanna Be Like You
10. Nino Ferrer - Si Tu M'aimes Encore
11. KC & The Sunshine Band - Thats The Way I Like It
12. Marie Laforet - L'air Que Tu Jouais Pour Moi
13. La Bionda - Will She Or Won't She
14. Paul Mauriat - El Bimbo
15. George Baker Selection - Una Paloma Blanca
16. Mireille Mathieu - Ciao, Bambino, Sorry
17. The Majestic Orchestra - You Mean Everything To Me
18. El Pasador - Amada Mia, Amore Mio
19. The Animals - House Of The Rising Sun
20. Pino D'angio - Notte D'amore
21. Rafaella Carra - Fiesta
22. Bertone's Ballroom Orchestra - So What's New
23. Jason Donovan - Sealed With a Kiss
24. The Barry Sisters - Nava Nagila
25. Tennessee Ernie Ford - Sixteen Tons
26. Yves Montand - Les Feuilles Mortes
27. Kapelye - Der Badkhn (The Wedding Poe)
CD 6:
01. Marie Laforet - Manchester Et Liverpool
02. Charlie Chaplin's Theme - Les Temps Modernes
03. Minnie Reperton - Loving You
04. George McCrae - Rock Your Baby
05. Morris Albert - Feelings
06. Big Bad Voodoo Daddy - Ol'MacDonald (Dedicated to the late, great Frank Sinatra)
07. Pino D'Angio - Signorina
08. Julio Iglesias - Mammy Blue
09. The Majestic Orchestra - Save the Last Dance for Me
10. Jean-Jacques Goldman - Comme Toi
11. The Dave Brubeck Quartet - Take Five
12. Simon and Garfunkel - El Condor Pasa (If I Could)
13. The Barry Sisters - Tum Balalaika
14. Gilla - Jonny
15. Joey DeFrancescos - Speak Softly Love (Theme from 'Godfather')
16. Yves Montand - Sous Le Chiel De Paris
17. Marianne Faithfull - This Little Bird
18. Lulu - Boom Bang-A-Bang
19. B.J. Thomas - Raindrops Keep Falling on My Head
20. Belle Epoque - Sorry
21. Leo Sayer - When I Need You
22. Marie Laforet - Je Suis Folle De Vous
23. Nino Ferrer - L'Annee Mozart
24. Tony Anderson String Orchestra - Donauwellen
DOWNLOADuploadgigrapidgatornitroflare
---