UB40 - Essential (2020)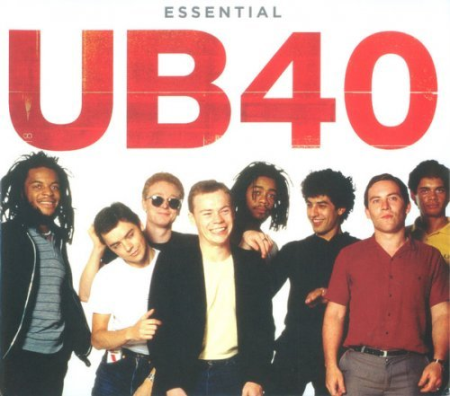 Mp3 320 kbps / FLAC (tracks+.cue) | 3h 35 min | Genre: Reggae, Pop | 494 MB / 1.3 GB
Disc 1
1. UB40 - Red Red Wine
2. UB40 - Food For Thought
3. UB40 - One In Ten
4. UB40 - Kingston Town
5. UB40 & Chrissie Hynde - Breakfast In Bed
6. UB40 - Dream A Lie
7. UB40 - Sing Our Own Song
8. UB40 - If It Happens Again
9. UB40 - Please Don't Make Me Cry
10. UB40 - Maybe Tomorrow
11. UB40 & United Colours Of Sound - Swing Low
12. UB40 - Where Did I Go Wrong
13. UB40 - Tell Me Is It True? (Fugees Remix)
14. UB40 - Holly Holy
15. UB40 - Tyler
16. UB40 - The Train Is Coming
17. UB40 - The Way You Do The Things You Do
18. UB40 - Many Rivers To Cross
Disc 2
1. UB40 - (I Can't Help) Falling In Love With You
2. UB40 - Don't Break My Heart
3. UB40 - My Way Of Thinking
4. UB40 - I Think It's Going To Rain Today
5. UB40 - The Earth Dies Screaming
6. UB40 - Don't Let It Pass You By
7. UB40 - Come Back Darling
8. UB40 - Kiss And Say Goodbye
9. UB40 - So Here I Am
10. UB40 - C'Est La Vie
11. UB40 - Riddle Me
12. UB40 - Reggae Music
13. UB40 - Wear You To The Ball
14. UB40 - Watchdogs
15. UB40 - I Would Do For You
16. UB40 - Promises And Lies (Live In The UK, 1993)
Disc 3
1. UB40 & Chrissie Hynde - I Got You Babe
2. UB40 - King
3. UB40 - Cherry Oh Baby
4. UB40 - Homely Girl
5. UB40 - Higher Ground
6. UB40 - Rat In Mi Kitchen
7. UB40 - Don't Slow Down
8. UB40 - Until My Dying Day
9. UB40 - Bring Me Your Cup
10. UB40 - All I Want To Do
11. UB40 - Always There
12. UB40 - Here I Am (Come And Take Me)
13. UB40 - Dance With The Devil
14. UB40 - I Won't Close My Eyes (Remix)
15. UB40 - I've Got Mine
16. UB40 - Love Is All Is Right (Remix)
17. UB40 - Impossible Love
18. UB40 & Lady Saw - Since I Met You Lady
Formed in Bigham towards the end of 1978, UB40 took their name from the Unemployment Benefit Form 40, which all 8 members were familiar with being out of work and having to sign on. Unemployment particularly amongst young people was a huge issue in Britain during the 70s and early 80s and that struggle would inform much of their early output.
Their debut single, a double header featuring King and Food For Thought (UK No.4) appeared in the Spring of 1980 and would mark the start of an incredibly successful chart career. Their debut album that autumn was aptly titled Signing Off and reached No.2. Present Arms the following summer repeated this near miss for the coveted UK album top spot and by now anyone who might have doubted the band's appeal couldn't ignore them.
Up to the end of 2003, the period covered by this collection, they scored a staggering 53 UK top 75 singles, 49 of which are featured on this set. They include 3 UK no.1's, 6 further top 5's, an additional 10 top 10's and 10 top 20s! Red, Red Wine, One In Ten, (I Can't Help) Falling In Love With You, Don't Break My Heart, I Got You Babe (with Chrissie Hynde) Kingston Town and Cherry Oh Baby are all here alongside many more and firm favourites from 14 of their studio albums, 12 of which made the UK album chart Top 20. Enjoy.
DOWNLOADuploadgigrapidgatornitroflare
---