VA - The Worlds Greatest Classical Chillout - The Only Classical Chillout Album You'll Ever Need (2009)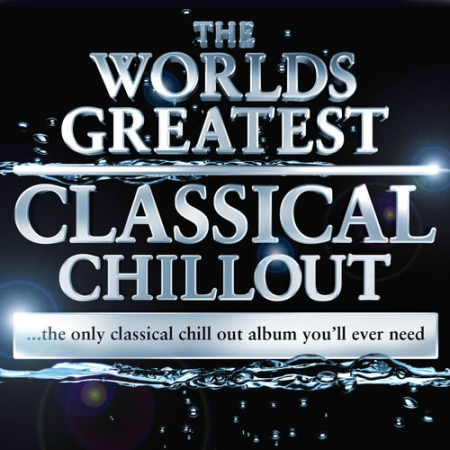 Mp3 CBR 320 kbps | Classical / Chillout | 3:08:49 | 435 Mb
Peter Schmalfuss - Suite Bergamasque: III. Clair de lune
Frank Glazer - 3 Grossniennes: No. 1
Southwest German Chamber Orchestra - Orfeo ed Euridice: 2nd act - Ballo: Andante (Dance of the Blessed Spirits)
Symphony of the Air - The Nutcracker - Ballet Suite, op. 71 A: III. Dance of the Sugar Plum Fairy
Stuttgart Chamber Orchestra - Satie / 3 Gymnopedies (Arr. for Orchestra): No. 1
Slovak Philharmonic Chamber Orchestra - Water Music, Suite: V. Andante espressivo
Peter Schmalfuss; Frederic Chopin - 12 Etudes, op. 10: No. 3: in E Major "Tristesse"
Peter Schmalfuss - Nocturnes in B Flat Minor, Op. 9
Southwest German Chamber Orchestra; Pforzheim Motet Choir - Ave Verum Corpus, Motet K. 618
Stuttgart Chanber Orchestra - Two Elegiac Melodies for String Orchestra, op. 34 II, Last Spring
Robert Taub - Piano Sonata No. 14 in C Sharp Minor, op. 27/2 'Moonlight': I. Adagio sostenuto
Numberg Symphony Orchestra - Piano Concerto No. 21 in C Major, K. 467 "Elvira Madigan", II. Andante
Peter Frankl - 3 Romances, Op. 28: No2 in F-Sharp Major
Württemberg Chamber Orchestra; Wurttemberg Chamber Orchestra; Jorg Faerber - Carnival of the Animals: 13, The Swan
José Luis Lopàtegui; José Luis Lopategui - Diez Canciones Populares Catalanas: VI. La canço del lladre
Franz Schubert; Peter Frankl - Moments musicaux, D. 780 (OP. 94), No. 4: Moderato
Endres Quartet - Quintet in A Major for Clarinet, 2 Violins, Viola and Violoncello, K581: II. Larghetto
Utah Symphony Orchestra - Lyric Suite, OP. 54: III. Notturno
Orchestra of Radio Luxembourg - Violin Concerto in D Major, OP. 35: II. Canzonetta: Andante
Stanislaw Skrowaczewski; Minnesota Orchestra - Pavane pour une infante defunte
Philaharmonia Hungarica - Violin Concerto in E Minor, Op. 64: II Andante
Peter Franki - Album Leaves ("Albumbletter")
Robert Schumann; Sylvia Capova - Scenes from Chilhood, OP 15:7. Traumerei
Capella Istropolitana; Paul Kantschieder - Organ Concierto in D. Minor, OP 7/4, HWV 306: I. Adagio
Orquesta Sinfonica Venezuela - Concierto de Aranjuez for Guitar and Orchestra: II. Adagio
Wurttemberg Chanber Orchestra - Concierto in F Minor for Harpsichord, String and Basso Continuo, BWV 1056: II. Largo
Frédéric Chopin; Abbey Simon; Frederic Chopin - Waltzes, Op. 69 Mo. 9 in A flat Major, op. 69/1 "Valse de l'adieu"
Stuttgart Wind Quintet - Divernto No. 1 in B-flat Major: II. Chorale St Antoni
Cincinnati Pops Orchestra - Les patineurs "The Ice Skaters": Duet (Allegro scherzoso)
Badische Stadtskappelle Karlsruhe - Romance for Violin and Orchestra in F Major, Op. 50
Alfred Brendel; Walter Lien - Sonata for Two Pianos in D Major, K448: II. Andante
Peter Frankl - Reverie, for PIano, L.68
Bamberg Symphony Orchestra - Carmen Suite No.1: III. Intermezzo
Württemberg Chamber Orchestra; Wurttemberg Chamber Orchestra - Adagio in G Minor
Slovak Philharmonic Orchestra - Piano Concerto No. 1 in E Minor, OP. 11: II. Romance-Larghetto
Stuttgart Chamber - The Four Seasons, Spring, OP. 8/1: II. Largo e pianissimo sempre
Stuttgart Chamber Orchestra - The Four Seasons, Autumn, OP. 8/3. II. Adagio
Gerhard Eckle - Meditation for the Piano
Wurttemberg Chamber Orchestra Heilbronn; Württemberg Chamber Orchestra Heilbronn; Jörg Faerber - Carnival of the Animals:VII. The Aquarium
Chamber Orchestra of the Vienna Festspiele - Concerto for Guitar, Violin and Orchestra in A Major: II. Adagio
DOWNLOADuploadgigrapidgatornitroflare
---