VA - Hard to Find Jukebox Classics 1960-64: 30 Amazing Stereo Hits (2016)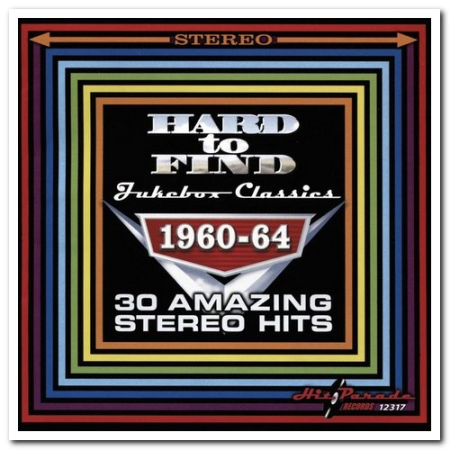 Artist
: Various Artists
Title
: Hard to Find Jukebox Classics 1960-64: 30 Amazing Stereo Hits
Year Of Release
: 2016
Label
: Hit Parade Records [12317]
Genre
: Pop, Soul, Rock & Roll, Rhythm & Blues, Country/Folk
Quality
: CBR 320 kbps / FLAC (tracks+cue, log)
Total
: 1:17:23
Total Size
: 177 mb / 478 mb
Ready for the most remarkable flood of high-profile stereo debuts this year (or any year)? Hit Parade Records presents perhaps their finest CD collection yet, and it's overflowing with sonic surprises you never expected to hear in stereo.
From the most iconic drum beat in pop music (the fabulous "Be My Baby" intro) to the instantly recognizable opening chords of "Louie Louie" and "You Really Got Me" (both here in stereo for the first ), this album contains more important pop music history than any CD you'll likely ever own.
Our hats are off to the three sound eeers who found and perfected the best sources, meticulously compared them to the original singles and produced in every case the absolute finest sounding versions of these quintessential sixties masterpieces. We're confident that you'll find the extraordinary purity of the sound surpasses whatever you thought was "the best" you'd heard before!
Of course, the star attractions here are the amazing 18 Stereo Debuts that read like a who's who of 60s pop & rock: "The Loco-Motion," "Hey! Baby," "Hey Paula," "Little Children," "As Tears Go By" and even two great instrumentals, the sultry sax of "Harlem Nocturne" and the glorious stereo twang and cattle calls of "(Ghost) Riders in the Sky." But we don't mean to forget The Honeycombs' foot-stomper "Have I The Right?" or the thundering drum/guitar/organ intro from "California Sun." You've just never heard them like this!
Special mention to the rare super-wide stereo version of "Dawn (Go Away)" and the heavenly harmonies of The Dixie Cups on "Chapel Of Love," at last complete with all their vocal overdubs. There's more, a lot more, so check out the track list and listen to the sound samples below.
Simply put, all the songs on this incredible collection sound better than when they were new, better than you remember them, the best they'll ever be! Hearing is believing!
Please note: These are only the true, original hit versions - a guarantee you never get from services like iTunes and Spotify. Includes a 12-page booklet with complete song-by-song annotation and liner notes by Greg Adams.
:: TRACKLIST ::
01 -The Ronettes - Be My Baby 2:42
02 -The Chiffons - He's So Fine 2:05
03 -The Dixie Cups - Chapel Of Love 2:47
04 -Little Eva - The Loco-Motion 2:30
05 -Paul & Paula - Hey Paula 2:25
06 -Bruce Channel - Hey! Baby 2:25
07 -The Rivieras - California Sun 2:22
08 -The Kingsmen - Louie louie 2:43
09 -The Kinks - You Really Got Me 2:14
10 -The Zombies - She's Not There 2:22
11 -The Honeycombs - Have I The Right? 2:54
12 -Billy J. Kramer & The Dakotas - Little Children 2:47
13 -Marianne Faithfull - As Tears Go By 2:40
14 -The 4 Seasons - Dawn (Go Away) 2:45
15 -Ray Charles - Hit The Road Jack 2:00
16 -Chubby Checker - Limbo Rock 2:22
17 -Ray Barretto - El Watusi 2:40
18 -The Crystals - Uptown 2:24
19 -The Viscounts - Harlem Nocturne 2:22
20 -The Ramrods - (Ghost) Riders In The Sky 2:32
21 -Lorne Greene - Ringo 3:12
22 -The Rooftop Singers - Walk Right In 2:33
23 -Peter, Paul & Mary - Puff The Magic Dragon 3:24
24 -Stan Getz, Astrud Gilberto - The Girl From Ipanema 2:45
25 -Geo Fame & The Blue Flames - Yeh Yeh 2:20
26 -Wayne Newton - Danke Schoen 2:34
27 -Rick Nelson - It's Up To You 2:44
28 -Jackie DeShannon - When You Walk In The Room 2:40
29 -Sam Cooke - A Change Is Gonna Come 2:35
30 -Roy Orbison - Running Scared 2:11
Tracks 4, 5, 6, 7, 8, 9, 11, 12, 13, 19, 20, are DES Stereo - The DES (Digitally Extracted Stereo) technique has been used to create the indicated new stereo mixes on this collection (marked STEREO* on the traycard). In the DES process, various instrumental and vocal elements are digitally extracted (filtered) from mono sources and subsequently recombined into a new stereo mix. Not every song is a good candidate for this process-it depends entirely on hoe well the music was recorded and what instruments were used. Once a song is chosen, it may take an average of 30 to 40 hours to complete an extraction. These stereo mixes offer audiences a fresh, exciting listening experience, and allow them to enjoy their favorite songs in a way never before possible.
:: ::
DOWNLOADuploadgigrapidgatornitroflare
---