VA - The Complete Sun Singles, Vol.2 - From The Vaults [4CD Box Set] (1995) FLAC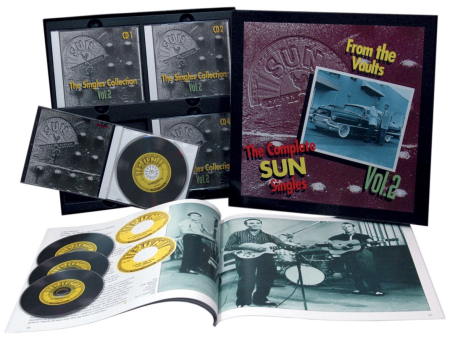 amazon
1995 | Rockabilly, Rock & Roll
FLAC, Lossless | 723 mb
4-CD box (LP-size) with 76-page book, 100 tracks. Playing approx. 253 mns.
Critics and fans were unanimous: Volume One of this series (BCD 15801) was an eye-opener and a revelation in the way it told the Sun Records story release-by-release. Here's the heart of Sun's golden era. Jerry Lee Lewis, Johnny Cash, Roy Orbison, Warren Smith, and Carl Perkins were the label's stars. It was a revolutionary period, and these are the recordings that shaped modern rock 'n' roll. Essential!
Here we pick up the story, and collectors need only to know that this includes Sun 229 through 278. Here are the great original versions of Blue Suede Shoes, Whole Lotta Shakin' Goin' On, Oooby Dooby, I Walk The Line, Flying Saucer Rock 'n' Roll etc., as well as classic rockabilly and R&B by Sun's great unknowns. Here too is the first issue of the previously unissued Sun 252 by Kenny Parchman. Incredible photos round out the set.
CD1 (01:05:01)
1. Maggie Sue Wimberly - Daydreams Come True (02:57)
2. Maggie Sue Wimberly - How Long (02:51)
3. The Miller Sisters - There's No Right Way To Do Me Wrong (02:24)
4. The Miller Sisters - You Can Tell Me (02:42)
5. Charlie Feathers - Defrost Your Heart (02:33)
6. Charlie Feathers - A Wedding Gown Of White (03:09)
7. Johnny Cash - Folsom Prison Blues (02:51)
8. Johnny Cash - So Doggone Lonesome (02:40)
9. Billy "The Kid" Emerson - Little Fine Healthy Thing (02:37)
10. Billy "The Kid" Emerson - Something For Nothing (02:51)
11. Carl Perkins - Blue Suede Shoes (02:18)
12. Carl Perkins - Honey, Don't (02:53)
13. Carl Perkins - Sure To Fall (02:34)
14. Carl Perkins - Tennessee (03:07)
15. Jimmy Haggett - No More, No More (02:27)
16. Jimmy Haggett - They Call Our Love A Sin (02:17)
17. Rosco Gordon - The Chicken (Dance With You) (02:52)
18. Rosco Gordon - Love For You, Baby (03:04)
19. Slim Rhodes - Gonna Romp And Stomp (02:23)
20. Slim Rhodes - Bad Girl (02:30)
21. Warren Smith - Rock 'N' Roll Ruby (02:54)
22. Warren Smith - I'd Rather Be Safe Than Sorry (03:00)
23. Jack Earls - Slow Down (02:22)
24. Jack Earls - A Fool For Lovin' You (02:45)
CD2 (01:02:59)
1. Johnny Cash - Get Rhythm (02:16)
2. Johnny Cash - I Walk The Line (02:47)
3. Roy Orbison & The Teen Kings - Ooby Dooby (02:13)
4. Roy Orbison & The Teen Kings - Go! Go! Go! (02:11)
5. Carl Perkins - Boppin' The Blues (02:51)
6. Carl Perkins - All Mama's Children (02:10)
7. Jean Chapel - Welcome To The Club (01:54)
8. Jean Chapel - I Won't Be Rockin' Tonight (02:12)
9. Billy Riley - Trouble Bound (02:45)
10. Billy Riley - Rock With Me, Baby (02:12)
11. Malcolm Yelvington - Rockin' With My Baby (02:20)
12. Malcolm Yelvington - It's Me, Baby (02:31)
13. Sonny Burgess - Red Headed Woman (02:11)
14. Sonny Burgess - We Wanna Boogie (02:27)
15. The Rhythm Rockers - Fiddle Bop (02:28)
16. The Rhythm Rockers - Juke Box, Help Me Find My Baby (02:18)
17. Carl Perkins - I'm Sorry, I'm Not Sorry (02:29)
18. Carl Perkins - Dixie Fried (02:28)
19. Warren Smith - Black Jack David (03:13)
20. Warren Smith - Ubangi Stomp (02:01)
21. Roy Orbison - You're My Baby (02:08)
22. Roy Orbison - Rockhouse (02:08)
23. Kenny Parchman - Love Crazy Baby (02:06)
24. Kenny Parchman - I Feel Like Rockin' (02:34)
25. Barbara Pittman - I Need A Man (02:56)
26. Barbara Pittman - No Matter Who's To Blame (03:10)
CD3 (00:58:30)
1. Ray Harris - Come On, Little Mama (02:20)
2. Ray Harris - Where'd You Stay Last Nite? (02:14)
3. The Miller Sisters - Ten Cats Down (02:20)
4. The Miller Sisters - Finders Keepers (02:58)
5. Slim Rhodes & Sandy Brooks - Take And Give (02:23)
6. Slim Rhodes & Sandy Brooks - Do What I Do (02:34)
7. Rosco Gordon - Shoobie Oobie (02:58)
8. Rosco Gordon - Cheese And Crackers (02:50)
9. Johnny Cash - There You Go (02:19)
10. Johnny Cash - Train Of Love (02:26)
11. Jerry Lee Lewis - Crazy Arms (02:49)
12. Jerry Lee Lewis - End Of The Road (01:50)
13. Billy Lee Riley And His Little Green Men - Flyin' Saucers Rock & Roll (02:06)
14. Billy Lee Riley And His Little Green Men - I Want You, Baby (01:58)
15. Carl Perkins - Matchbox (02:10)
16. Carl Perkins - Your True Love (02:48)
17. Ernie Chaffin - Feelin' Low (02:37)
18. Ernie Chaffin - Lonesome For My Baby (02:09)
19. Sonny Burgess - Restless (02:41)
20. Sonny Burgess - Ain't Got A Thing (02:09)
21. Glenn Honeycutt - I'll Be Around (02:49)
22. Glenn Honeycutt - I'll Wait Forever (02:40)
23. Roy Orbison & The Roses - Sweet And Easy (02:13)
24. Roy Orbison & The Roses - Devil Doll (02:09)
CD4 (01:06:45)
1. Johnny Cash & The Tennessee Two - Don't Make Me Go (02:30)
2. Johnny Cash & The Tennessee Two - Next In Line (02:49)
3. Jerry Lee Lewis - It'll Be Me (02:47)
4. Jerry Lee Lewis - Whole Lot Of Shakin' Going On (02:55)
5. Warren Smith - So Long, I'm Gone (02:12)
6. Warren Smith - Miss Froggie (02:28)
7. Wade & Dick - Bop Bop Baby (02:12)
8. Wade & Dick - Don't Need Your Lovin', Baby (02:47)
9. Jim Williams - Please Don't Cry Over Me (02:42)
10. Jim Williams - That Depends On You (02:26)
11. Rudi Richardson - Fool's Hall Of Fame (02:41)
12. Rudi Richardson - Why Should I Cry? (02:52)
13. Ray Harris - Greenback Dollar - Watch And Chain (02:58)
14. Ray Harris - Foolish Heart (02:23)
15. Mack Self - Easy To Love (02:47)
16. Mack Self - Everyday (02:12)
17. Carl Perkins - Forever Yours (02:38)
18. Carl Perkins - That's Right (02:52)
19. Ernie Chaffin - I'm Lonesome (02:46)
20. Ernie Chaffin - Laughin' And Jokin' (02:09)
21. Edwin Bruce - More Than Yesterday (02:38)
22. Edwin Bruce - Rock Boppin' Baby (02:19)
23. Billy Lee Riley And The Little Green Men - Red Hot (02:33)
24. Billy Lee Riley And The Little Green Men - Pearly Lee (02:39)
25. Tommy Blake & The Rhythm Rebels - Flat Foot Sam (02:03)
26. Tommy Blake & The Rhythm Rebels - Lordy Hoody (02:27)
DOWNLOADuploadgigrapidgatornitroflare
---