VA - The Complete Sun Singles, Vol.1 - From The Vaults [4CD Box Set] (1994) FLAC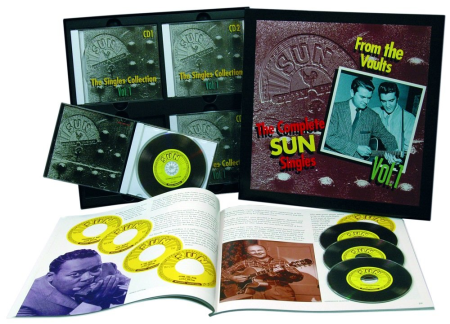 amazon
1994 | Rockabilly, Rock & Roll
FLAC, Lossless | 842 mb
4-CD box (LP-size) with 72-page book, 114 tracks. Playing approx. 309 mns.
Sun was the ultimate singles label. The original album catalogue was small, and mostly given over to Johnny Cash. Now here is the way Sun should have been reissued all along. All the original singles are presented ('A' and 'B' sides) in numerical order. Incredible care has been taken to locate the original masters or rare 78s to dub from (some of which - incredibly - have never been reissued), and we've also been successful in licensing Elvis Presley's Sun singles, so now you can hear the King of Rock And Roll in the context in which he was first heard. This - the ultimate Sun reissue series on a total of six CD boxed sets - is long overdue, but it has been worth the wait, because it has been done right.
All the Flip Records, plus Sun 175 to 228. Here are the first 52 singles on Sun ('A' and 'B' sides), issued between 1952 and 1955, as well as the four Flip singles. All of Elvis's singles are here, as well as the first singles by Johnny Cash, Carl Perkins, and many other legendary Sun artists. This is music history as it actually unfolded week-by-week.
CD1 (01:18:19)
1. Johnny London - Flat Tire (02:33)
2. Johnny London - Drivin' Slow (03:02)
3. Handy Jackson - Got My Application, Baby (03:07)
4. Handy Jackson - Trouble (Will Bring You Down) (03:02)
5. Joe Hill Louis - We All Gotta Go Some (02:44)
6. Joe Hill Louis - She May Be Yours (But She Comes To See Me Some) (03:03)
7. Willie Nix - Baker Shop Boogie (02:45)
8. Willie Nix - Seems Like A Million Years (02:44)
9. Jimmy & Walter - Easy (03:01)
10. Jimmy & Walter - Before Long (03:00)
11. Rufus Thomas Jr. - Bear Cat (02:54)
12. Rufus Thomas Jr. - Walkin' In The Rain (02:25)
13. Dusty Brooks & His Tones - Heaven Or Fire (02:43)
14. Dusty Brooks & His Tones - Tears And Wine (02:43)
15. D.A. Hunt - Lonesome Old Jail (03:01)
16. D.A. Hunt - Greyhound Blues (02:39)
17. Big Memphis Marainey - Call Me Anything, But Call Me (03:03)
18. Big Memphis Marainey - Baby, No, No! (02:44)
19. Jimmy DeBerry - Take A Little Chance (02:23)
20. Jimmy DeBerry - Has Made A Change (02:46)
21. The Prisonaires - Baby, Please (02:30)
22. The Prisonaires - Just Walkin' In The Rain (02:47)
23. Little Junior's Blue Flames - Feelin' Good (02:59)
24. Little Junior's Blue Flames - Fussin' And Fightin' Blues (03:01)
25. Rufus Thomas Jr. - r Man (02:51)
26. Rufus Thomas Jr. - Save That Money (02:46)
27. The Prisonaires - My God Is Real (02:32)
28. The Prisonaires - Softly And Tenderly (02:31)
CD2 (01:17:12)
1. Ripley Cotton Choppers - Blues Waltz (02:55)
2. Ripley Cotton Choppers - Silver Bells (02:18)
3. The Prisonaires - A Prisoner's Prayer (02:43)
4. The Prisonaires - I Know (03:44)
5. Little Junior's Blue Flames - Mystery Train (02:27)
6. Little Junior's Blue Flames - Love My Baby (02:39)
7. Doctor Ross - Come Back, Baby (02:51)
8. Doctor Ross - Chicago Breakdown (02:58)
9. Little Milton - Beggin' My Baby (02:31)
10. Little Milton - Somebody Told Me (03:02)
11. Billy "The Kid" Emerson - No Teasing Around (03:03)
12. Billy "The Kid" Emerson - If Lovin' Is Believing (02:15)
13. Hot 'Shot' Love - Wolf Call Boogie (02:39)
14. Hot 'Shot' Love - Harmonica Jam (02:39)
15. Earl Peterson - Boogie Blues (02:36)
16. Earl Peterson - In The Dark (02:37)
17. Howard Seratt - Troublesome Waters (03:07)
18. Howard Seratt - I Must Be Saved (02:59)
19. James Cotton - My Baby (02:25)
20. James Cotton - Straighten Up, Baby (02:23)
21. Little Milton - If You Love Me (02:34)
22. Little Milton - Alone And Blue (03:11)
23. Hardrock Gunter - Gonna Dance All Night (02:23)
24. Hardrock Gunter - Fallen Angel (02:49)
25. Doug Poindexter And The Starlight Wranglers - Now She Cares No More For Me (03:00)
26. Doug Poindexter And The Starlight Wranglers - My Kind Of Carrying On (02:03)
27. Billy "The Kid" Emerson - I'm Not Going Home (03:14)
28. Billy "The Kid" Emerson - The Woodchuck (03:07)
CD3 (01:17:58)
1. Raymond Hill - Bourbon Street Jump (02:40)
2. Raymond Hill - The Snuggle (03:01)
3. Harmonica Frank - The Great Medical Menagerist (03:09)
4. Harmonica Frank - Rockin' Chair Daddy (03:08)
5. James Cotton - Cotton Crop Blues (03:00)
6. James Cotton - Hold Me In Your Arms (02:49)
7. The Prisonaires - There Is Love In You (02:56)
8. The Prisonaires - What'll You Do Next? (01:34)
9. Buddy Cunningham - Right Or Wrong (02:51)
10. Buddy Cunningham - Why Do I Cry? (02:33)
11. Elvis Presley - That's All Right (01:57)
12. Elvis Presley - Blue Moon Of Kentucky (02:05)
13. Elvis Presley - Good Rockin' Tonight (02:14)
14. Elvis Presley - I Don't Care If The Sun Don't Shine (02:31)
15. Malcolm Yelvington And The Star Rhythm Boys - Drinkin' Wine Spodee-O-Dee (02:52)
16. Malcolm Yelvington And The Star Rhythm Boys - Just Rolling Along (02:25)
17. Doctor Ross - The Boogie Disease (02:37)
18. Doctor Ross - Juke Box Boogie (02:37)
19. The Jones Brothers - Look To Jesus (02:52)
20. The Jones Brothers - Every Night (02:46)
21. Billy "The Kid" Emerson - Move, Baby, Move (02:50)
22. Billy "The Kid" Emerson - When It Rains It Pours (03:15)
23. Elvis Presley - Milkcow Blues Boogie (02:41)
24. Elvis Presley - You're A Heartbreaker (02:15)
25. Slim Rhodes - Don't Believe (02:19)
26. Slim Rhodes - Uncertain Love (02:16)
27. Elvis Presley - I'm Left, You're Right, She's Gone (02:39)
28. Elvis Presley - Baby, Let's Play House (02:19)
29. Sammy Lewis With Willie Johnson - I Feel So Worried (02:39)
30. Sammy Lewis With Willie Johnson - So Long, Baby, Goodbye (02:08)
CD4 (01:15:56)
1. Billy "The Kid" Emerson - Red Hot (02:29)
2. Billy "The Kid" Emerson - No Greater Love (02:58)
3. Little Milton - Homesick For My Baby (02:22)
4. Little Milton - Lookin' For My Baby (02:57)
5. Johnny Cash - Cry! Cry! Cry! (02:29)
6. Johnny Cash - Hey, Porter (02:16)
7. The Five Tinos - Don't Do That! (02:31)
8. The Five Tinos - Sitting By My Window (03:29)
9. Elvis Presley - Mystery Train (02:30)
10. Elvis Presley - I Forgot To Remember To Forget (02:32)
11. Carl Perkins - Let The Jukebox Keep On Playing (02:54)
12. Carl Perkins - Gone, Gone, Gone (02:41)
13. Slim Rhodes - The House Of Sin (02:46)
14. Slim Rhodes - Are You Ashamed Of Me? (02:37)
15. Eddie Snow - Ain't That Right? (02:39)
16. Eddie Snow - Bring Your Love Back Home (03:16)
17. Rosco Gordon - Just Love Me, Baby (02:26)
18. Rosco Gordon - Weeping Blues (03:14)
19. Smokey Joe - The Signifying Monkey (03:19)
20. Smokey Joe - Listen To Me, Baby (02:32)
21. Carl Perkins - Movie Magg (02:12)
22. Carl Perkins - Turn Around (03:02)
23. Bill Taylor - Lonely Sweetheart (03:06)
24. Bill Taylor & Smokey Jo - Split Personality (02:24)
25. Charlie Feathers - I've Been Deceived (02:45)
26. Charlie Feathers - Peepin' Eyes (02:16)
27. The Miller Sisters - Someday You Will Pay (02:24)
28. The Miller Sisters - You Didn't Think I Would (02:50)
DOWNLOADuploadgigrapidgatornitroflare
---