VA - Quantic & Robert Luis - Mono: When Shapes Join Together Mix [2CD Set] (2003)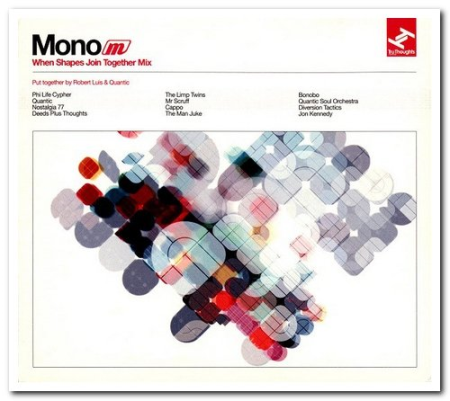 Artist
: Various Artists
Title
: Quantic & Robert Luis - Mono: When Shapes Join Together Mix
Year Of Release
: 2003
Label
: Tru Thoughts [TRUCD044]
Genre
: Downtempo, Nu Funk, Acid Jazz
Quality
: 320 kbps / FLAC (tracks+cue, log, scans)
Total
: 1:34:29
Total Size
: 219 mb / 577 mb
Taken from the music played on a European-oriented extreme sports series on MTV (whose soundtrack was created by Quantic), Mono: When Shapes Join Together Mix, originally released in 2003 in Britain, features tracks from the Tru Thoughts (Quantic's label, and also the releaser of the separate When Shapes Join Together trilogy) catalog (though some are very recently signed artists), and considering it's one of the more interesting ones in the European jazzbreakshiphopsoulfunkbeatsounds (as they call themselves) market, it makes for a pretty good collection. Quantic, of course, is featured heavily here, with four tracks that make the list, plus a song from his indie-dance duo the Limp Twins and a short interlude from his funk-based Quantic Soul Orchestra, though his direct contributions, while good, are surprisingly not the standouts on Mono. Bonobo's "Dinosaurs" has a nice slow groove, and the sparse, bluesy guitar riffing behind the rapping in Phi Life Cypher's "Cypher Funk" is fun and summery. The first disc, which contains downtempo and chilled-out songs, and the second one, which features more hip-hop and breakbeat, work well as a set, complementing each other nicely, picking up where the other leaves off. If Mono: When Shapes Join Together Mix is any sign of what the rest of the Shapes series will hold, the U.S. should hope that it doesn't take another three years for the albums to hit there, because it would definitely be missing out.
:: TRACKLIST ::
Disc 1 - Horizontal Mix
1. Mangataot - The Sin And The Fear (05:18)
2. Al Stylus - High Rise (05:06)
3. Quantic - Archipelago (03:01)
4. Bonobo - Dinosaurs (03:50)
5. Dubble D - Ooff! (04:20)
6. Jon Kennedy - We're Just Waiting For You Now (02:33)
7. TM Juke - Form To Follow (04:44)
8. Flevans - B Again (05:03)
9. Mawglee - Nouby Rapture (03:19)
Disc 2 - Vertical Mix
1. Phi-Life Cypher - Cypher Funk (03:08)
2. Diversion Tactics - School Thing (02:31)
3. Life - Bush & Blair (Instrumental) (00:30)
4. Life - Moviedrome (Accapella) (01:39)
5. Cappo - I.D.S.T. (03:47)
6. Chris Clark - Roughage (04:04)
7. The Quantic Soul Orchestra - Super 8 (Part 2) (00:25)
8. Quantic - Sweet Calling (Accapella) (feat. Alice Russell) (02:05)
9. The Limp Twins - Elemental (02:48)
10. Nostalgia 77 - The Goat (02:51)
11. Wikkaman & Ulysses - Sweet Science (05:54)
12. Quantic - Not So Blue (04:55)
13. Quantic - Off The Beaten Track (Carmel Mix) (06:47)
14. Deeds Plus Thoughts - Rhythmic Haze (00:45)
15. Bonobo - Terrapin (Mr Scruff Mix) (04:43)
16. Jung Collective - So You Said (05:07)
17. Maga Bo - Tanto Faz (05:16)
Features music from the MTV "Mono" extreme sports series. (Quantic soundtracked the show).
CD1, the 'Horizontal Mix', is downtempo and partially mixed/blended.
CD2, the 'Vertical Mix', is higher energy and DJ mixed.
:: ::
DOWNLOADuploadgigrapidgatornitroflare
---